Britney uploaded Tom's Diner on her Vevo channel! New single, maybe?


Giorgio Moroder's new album, "Deja Vu", wich includes Britney Spears cover of "Tom's Diner" is out now on iTunes!! Be sure to buy your copy by clicking here.
Of course, Tom's Diner is a success on iTunes' Charts.
Click here to stream it on Spotify.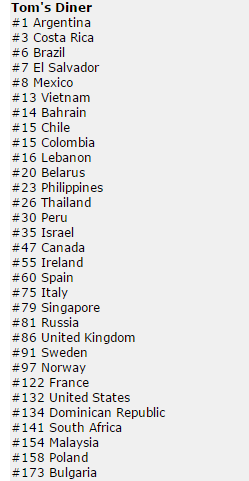 Loved working with you for #TomsDiner @GiorgioMoroder! Congrats on your incredible album! http://t.co/SyNFRDPjER

— Britney Spears (@britneyspears) June 16, 2015
Official Charts has revealed the biggest selling singles and albums of Britney in the United Kingdom. Check out below the list:
Singles
1: …Baby One More Time (1999)
When it comes to the singles, the one to rule them all is the song that started us on our Hitney journey. Spawning a legion of imitators, …Baby One More Time scored more sales in its first week than many songs can hope to shift in a lifetime.
No doubt thanks to the perma-rotation of its iconic video on most music channels at the time, a whopping 463,000 of you raced down to your friendly local record shop to buy …Baby One More Time in that very first week. Imagine the queues.
Sales: 1.54 million

Peak: 1
ChartFact: The first of six Number 1s for Britney, …Baby One More Time passed a million sales in just five weeks.
Britney Fact: …Baby One More Time was the first record Sam Smith ever bought.
2: Scream & Shout (2012)
Britney's high-octane collaboration with Black Eyed Peas' chief hat-wearer and top texter will.i.am is her most recent Number 1, reaching the top in early 2013 – and it's already her second biggest seller! It was her first time at the top of the Official Singles Chart since Everytime in 2004, and Britney looked pleased as punch to be back where she belonged. All eyes really were on her.
Sales: 860,000

Peak: 1

ChartFact: When it comes to streaming, Scream & Shout is Britney's most listened to track since we started counting streams toward the chart in summer 2014.
3: Oops…! I Did It Again (2000)
She really did do it again, scoring her third Number 1 single in just over a year and finally bringing the bootcut trouser trend the PVC extension it had always been lacking.
One of the very few singles to cause havoc down your local danceteria and actually stop dead in the middle for what seemed like a really long talky bit, Oops…! I Did It Again was Number 1 for just one week before Gabrielle came along with Rise and sent Britney back to Mars.
Sales: 475,500

Peak: 1

ChartFact: Britney didn't have another Number 1 for four years. Sadface.
4: Sometimes (1999)
The follow-up to …Baby One More Time saw Britney slow things down a little. Britney had to have a knee operation just before the shoot for the video, which featured Britney dressed in a shade of white we like to call "Unbelievably 1999". Luckily, Britney healed super quickly and was able to throw a few shapes on the pier with her mates and show off her extremely strong flip-flop game.
Sales: 456,000

Peak: 3
ChartFact: This is Britney's biggest selling non-Number 1 single. Only three more Britney singles would peak at Number 3: My Prerogative (2004), Gimme More (2007) and Womanizer from 2008. Speaking of which…
Continue reading Britney's biggest selling singles and albums in the UK revealed
During a recent interview, Giorgio Moroder told Entertainment weekly that his collaboration with Britney is one of his greatest and memorable collaborations.
Britney Spears: "Tom's Diner" 2015

Britney asked if I was interested in producing her with the [Suzanne Vega] song "Tom's Diner." I started to record the chords because, on an a cappella song, you can have whatever chords you want. When I was happy with the tracks, I sent it to her. I was shocked by how big she is worldwide. When the song was leaked, she was trending for almost a day. I knew she was big, but I did not know that she was that big.
El día de ayer se filtró un demo nunca antes escuchado de Britney para la era In The Zone y la canción se llama Conscious. Aquí se las dejamos.
El día de hoy se cumplen 16 años desde que …Baby One More Time fue lanzado. Sin dudas un tema que hizo historia y que catapultó a Britney al éxito, además de haber cambiado la música. La canción debutó en Billboard Hot 100 el 21 de Noviembre de 1998 y se mantuvo en el N°1 por dos semanas consecutivas. A su vez, también se mantuvo en lo mas alto del Hot 100 Singles Sales y permaneció allí por cuatro semanas consecutivas. Además, alcanzó el N°1 en mas de 20 países.
…Baby One More Time es uno de los singles mas vendidos de la historia, con ventas que superan las 10 millones de copias en todo el mundo.
Britney ha interpretado esta canción en todos sus tours.
Sin dudas el tiempo pasa volando, pero esta canción sigue estando vigente. ¡Y la amamos! ¡Felices 16 …Baby One More Time!
En los últimos días se han filtrado dos nuevos demos realizados para Britney Jean. Las canciones son producidas por Dev Hynes, quien también ya había producido otras canciones que no lograron entrar en el último álbum de Britney.