Take a look at these two INCREDIBLE unseen outtakes for the photoshoot by Glenn Nutley in 2015. Britney looks gorgeous!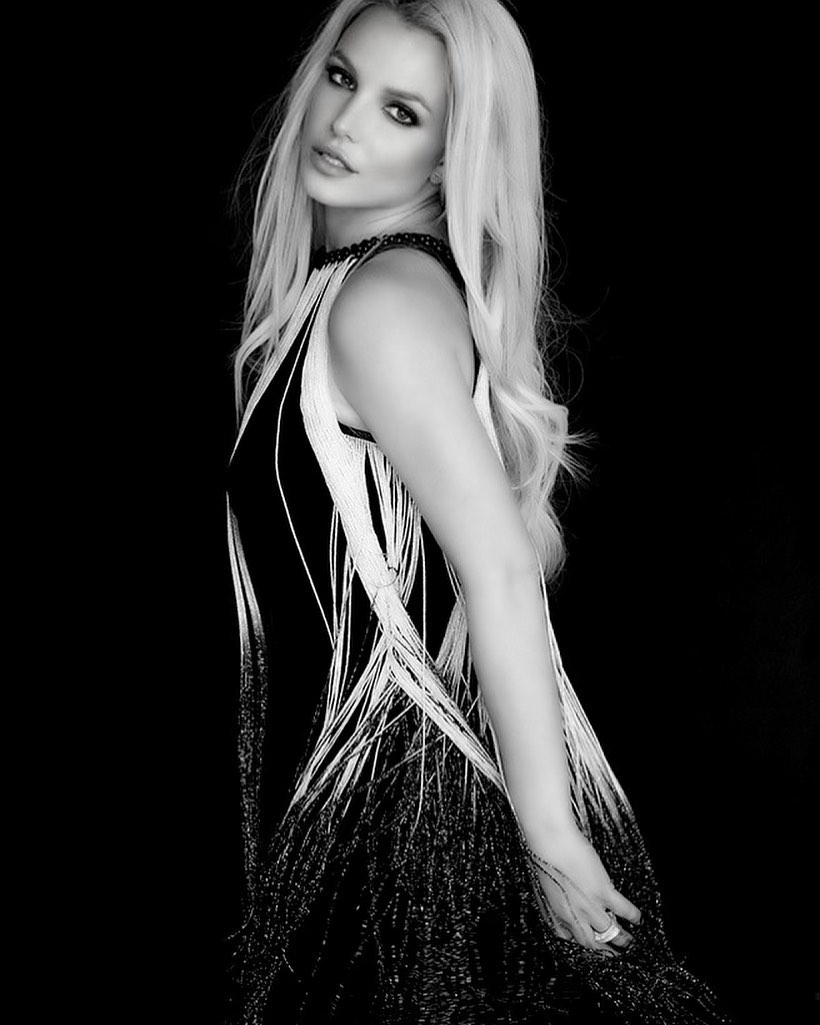 Big news! Britney will address the court at an upcoming conservatorship hearing to be held on June 23.
Earlier today, Brit's court-appointed attorney, Samuel D. Ingham III, said at a hearing: "Britney wants to address the court directly within 30 days or as soon as posible," and the judge even left the hearing to check her calendar. Ingham also said that Britneys' request to speak directly to the court is unrelated to any of the pending matters.
"Many" things were also discussed today but A LOT was, yeah you already know… delayed AGAIN (don't forget that delay means more money for all of them). Oh, and the greedy Vivian Thoreen wants EVEN MORE money, she requested the ability for all attorneys to file supplements to the current fee petitions before the July 14th hearing. Don't forget that they also want all accounting sealed… *eye roll*
A continuation of today's hearing will be on July 14th.
The Court granted the motion to seal Jodi's payments and attorneys payments. The day's agenda was being discussed when technical difficulties began. Issue seems to be with Penny's phone inside the courthouse. IT person is on the call.

— ✨ Free Britney Los Angeles ✨ (@freebritneyla) April 27, 2021
Britney Spears has requested to address the court directly, says her court-appointed lawyer in conservatorship case. Britney is set to speak on June 23rd.

— Liz Day (@LizDDay) April 27, 2021
We already know that Jamie Spears loves his daughter *eye roll* but you know what else he loves about her? HER MONEY. And it looks like it was pay day for Team Conservatorship!
These new court docs show that Britney will have to pay over $2 million to her lawyers, Jamie's lawyers and Lou Taylor's lawyers. Basically, Britney's funding a legal battle against herself. No one pays anything but Britney.
Here's what they're requesting:
Jamie Spears: He requests to be paid $16,000 a month for being the conservator of her estate, plus $2,000 a month for an office he uses for his activities as her conservator from November 2019 to February 2021, so he wants $288,000. $288,000 TO THE MAN WHO ABUSED ONE OF BRITNEY'S SONS, let's not forget about that.
Jamie's lawyers: Of course Jamie is not gonna pay to his attorneys with his own money, so he's also asking that The Freeman Firm / "the Jerylls" be paid $574,625.19 with Britney's money.
Vivian Lee Thoreen from Holland & Knight (Jamie's lawyers): The "Britney loves his daddy" lawyer wants $893,751.41 and also wants to authorize another payment in the amount of $164,278.05 (she only rejoined Jamie's legal team five months ago). The worst thing about this, is that she charged for media relations and even mentioned the Framing Britney Spears documentary. So basically Britney's paying for Vivian's promo tour to defend Jamie on tv, to say that she loves his daddy.
Russ August & Kabat: Jamie also wants to pay to two law firms who may have been involved in charging Lou Taylor's personal legal fees to Britney's estate in 2019. They are asking to receive $175,541 and $364,641 respectively
Samuel Ingham: Britney's court-appointed lawyers requests $378,333 from her estate
Loeb & Loeb (the attorneys hired to help Sam Ingham litigate Britney's case): they requested a payment of $238,272
Jodi Montgomery (Britney's new conservator): She requested $221,090 in fees for herself, plus $65,465 for her attorney fees.
That's A LOT of money for 16 months. For legal battle against herself because Jamie Spears doesn't want to give up the power and money he gets at Britney's expense. THIS IS ABSOLUTELY INSANE. This is why they keep delying everything indefinitely, they are making a fortune by doing it. If this isn't abuse, I don't know what it is. And let's not forget that Britney does not qualify to be in a conservatorship, she is only in it because she is a millionaire and because she generates millions doing absolotely nothing. Let's end the conservatrship abuse once and for all.
And now you know why, all of the sudden, there's a post on Brintey's instagram talking about the Framing Britney Spears documentary. Don't be fooled by Jamie's team… Britney does not have access to her social media accounts. That post was just a distraction for the media.
You can find all the docs here:
Ver esta publicación en Instagram
It's pay day! Attorneys and conservators want to take over A MILLION dollars from Britney's estate, according to new court documents – a #FreeBritney thread pic.twitter.com/L5oWLHW2zq

— Britney Fan 🌹 (@BritneyHiatus) March 30, 2021
New court docs: Britney Spears paid around $890K for about four months of work, or about $10,000 a workday, for her father's lawyers to fight against her wishes in court. pic.twitter.com/N5JlPFpE1s

— Liz Day (@LizDDay) March 30, 2021
Exposing Cassie Petrey, CrowdSurf and the TRUTH behind Britney Spears' social media – a #FreeBritney thread pic.twitter.com/MST7EqVe1D

— Britney Fan 🌹 (@BritneyHiatus) January 22, 2021
Last Tuesday, Britney was spotted in Los Angeles with Sam and Jayden. All the HQ pics have been added to XRAY so be sure to check them out below!
Gallery Links:
–
Candids > 2021 > March 16 – Out for a walk with Sam and Jayden in Los Angeles
Here's a new trailer for the upcoming documentary Framing Britney Spears, which premieres Feb. 5 on FX and Hulu.
"Anytime there's that amount of money to be made, you have to question the motives of everyone close to that person." #NYTPresents: Framing Britney Spears premieres Feb. 5 on @FXNetworks and @Hulu. pic.twitter.com/Nr8GbWypTJ

— FX Documentaries (@FXDocs) January 29, 2021
The New York Times is releasing a documentary special on Britney's conservatorship (and the #FreeBritney movement) called "Framing Britney Spears."The documentary will stream on FX on Hulu on February 5, 2021.
Here's more info about it and the official trailer:
Her rise was a global phenomenon. Her downfall was a cruel national sport. People close to Britney Spears and lawyers tied to her conservatorship now reassess her career as she battles her father in court over who should control her life.

The meteoric rise and disturbing fall of Britney Spears has devolved into a Kafkaesque court battle that has reawakened her fandom and raised pressing questions about mental health and an individuals' rights.

The New York Times Presents: Framing Britney Spears re- examines her career and offers a new assessment of the movement rallying against her court-mandated conservatorship, capturing the unsavory dimensions of the American pop-star machine.

The series is executive produced by Jason Stallman, Sam Dolnick, Stephanie Preiss from The New York Times, and Ken Druckerman, Banks Tarver and Mary Robertson from Left/Right.
It has also been confirmed that Felicia Culotta and Adam Streisand (the lawyer that Britney tried to hire back in 2008 but was denied by the court) will appear and talk about Britney and the case. It will also feature Kim Kaiman (the marketing executive who originally created Spears's image) and "a lawyer currently working on the conservatorship".
Britney Is 'Capable' of Being a Free Woman: Speaking out for the first time in years, Culotta admits in the documentary that she "didn't then nor do I now understand what a conservatorship is." That said, taking Britney's age and accomplishments into consideration, her former assistant says she knows "firsthand [what Britney is] capable of."

Jamie Was Not as Present as Lynne Early On: Nancy Carson, the talent agent who helped Britney land an Off-Broadway role in New York City as a child, recalls seeing Jamie around Britney much less than Lynne in the early 1990s.

"Jamie visited from time to time and was anxious to see this time be worthwhile so that he could justify the money that it was costing to do this," Carson says.

Former Jive executive Kaiman, meanwhile, tells viewers that Lynne "supported" Britney's music career while Jamie was seemingly absent.

"Her mother would do whatever it took, personally and for the family's sake, for Britney to be a star," Kaiman recounts. "I never talked to her father. The only thing Jamie ever said to me was, 'My daughter is going to be so rich she's going to buy me a boat.' That's all I'm going to say about Jamie."

Britney Was Never a 'Puppet': Kevin Tancharoen, who worked as one of Britney's backup dancers in the prime of her career, contends in the film that she was "definitely in control of a lot of decisions" while on tour.

"That idea that Britney is a puppet who just gets moved around and gets told what to do is incredibly inaccurate," he says. "When I was involved in all of those years, we would present a lot of ideas. She would have to like them, and she would have to approve them. She was very creative. She was the one who knew what she wanted to do, and she would make that happen or her people would make that happen for her. That's how I got hired is because she just told somebody, 'No, I want him to do it.' And it happened within an hour. She was the boss."

Britney Did Not Get to Choose Her Own Lawyer: Adam Streisand, a trial lawyer who specializes in conservatorships and estates, tells viewers that he met with Britney after her 2008 hospitalization when she was looking for an attorney.

"The first question I had was, 'Does Britney have the capacity to be able to hire me? Does she have the ability to take my advice?'" he remembers asking during their meeting. "The first thing is Britney was able to make the judgment. [She said,] 'Hey, I get what's going on. I get that I'm not going to be able to resist this conservatorship or avoid this conservatorship.' So, that's a pretty sound judgment. The second thing was, she said, 'I don't want my father to be the conservator.' That was her one request. She wanted a professional or somebody independent. … Britney did not want her father to be the conservator of her person, the person who makes decisions about her medical care, treatment, so on and so forth. She also didn't want him controlling her finances."

However, the judge on the case ultimately disagreed with Streisand's assertion that the entertainer was capable of retaining her own lawyer, so he was not brought onto the case.

"I felt that was not the right decision by the judge," Streisand says, acknowledging that the judge had seen Britney's medical report while he had not. "I felt that based on my interactions with Britney that she was capable."

Britney Will Speak Out One Day: At the end of the documentary, Culotta says she is confident that fans will get to hear from Britney again. "I know at some point she will tell her story. I know she will," she says. "And I am so grateful for when that point comes, that she's able to sit down and … everything will fall into place."

Source: US Magazine
Glory has been re-released on vinyl with two new songs, Swimming In The Stars and Matches ft. Backstreet Boys, and it also includes the original photoshoot made by David LaChapelle… AND IT LOOKS INCRDIBLE!
We still can't believe how the album was originally released with the shoot made by Randee and not this one because it looks 100% better.
Here are all the photos from the vinyl and a preview of Matches.
Britney's latest single "Swimming In The Stars", a scrapped song from Glory which is now included in the new re-release of the album, is now available on all streaming and digital platfroms.
The song is N°1 in several countries and it's currently at N°5 on US iTunes so don't forget to buy the song!
BUY THE SONG ON ITUNES
Many things happened in today's court hearing but the most important new is that Bessemer Trust has been appointed as Co-Conservator of Britney's estate. Sadly, Judge Penny has decided not to suspend Jamie as conservator, so he remains in control alongside Bessemer. The good news is that the judge said she would consider future petitions for his suspension or outright removal inthe future and Inghman also made clear that he intends to file a petition to remove Jamie. So this is far from being over.
Lynne Spears was also "present"at the hearing and said that she wants Jamie removed and Bessemer to be appointed as sole conservator. She also said that she wishes Britney to "wake up tomorrow and see brighter days".
And also, Britney has not spoken to Jamie in a very long time because Ingham told him that he wasn't allowed to do it. Clearly, Britney doesn't want to have any kind of relationship with her father.
Ingham also called her a "high-functioning conservatee" who deserves at least notice of the actions her father is taking, which he has declined to provide.
The hearing is to be continued on December 16 so the fight continues.
Great news! Britney's petition for Bessemer Trust has been GRANTED by Judge Penny. They will begin to act as co-conservator of Britney's estate while the matter over suspending her dad is being pushed to another day. #FreeBritney pic.twitter.com/MB9uyHgmrA

— Britney Fan (@BritneyHiatus) November 11, 2020
Samuel Ingham, Britney's court appointed lawyer, told the judge that Britney is afraid of Jamie, her father and conservator of her estate and that she refuses to work as long as he remains in control of her estate.
Weirdly enough, Judge Penny declined to suspend Jamie immediately. So Brit's still under the control of someone she's afraid of. Unbelievable.
"My client has stated to me on many occasions that she is afraid of her father. She has also stated to me many times that she will not work as long as her father is in control of her career" – Samuel Ingham