Category: Interviews
Plus, here's another interview on the backstage of the AMF.
Britney appeared on Lorraine Kelly on Thursday, describing her twenties as 'horrible', and admitting she worries about her sons becoming teenagers.
Talking about her twenties, she admitted to Dan: 'I liked my thirties way more than my twenties, my twenties were horrible. My teens were fun but I like my thirties, thirties is great. You know who you really are.
I'm in a really good place right now, loving and learning myself. Every day I'm learning who I am, it's awakening, it's cool. It's okay to be single, it totally is,' she laughed.
Speaking to Dan Wooton about her new album Glory, Britney admitted she was nervous about her comeback.
'I was actually really nervous,' she revealed.  'I took my time with this record and it took two and a half years to do it. I definitely had the jitters but it worked out.'
About her kids, she said
'It's a little strange as I'm nervous, because I know 12, 13, 14 and 15, is going to be really scary and I'm going to be like, 'mum, please come to the house and help me out here'. But right now it's a great age, they're still babies.'
And she's happy with her new album, gathering inspiration from fellow stars including Selena Gomez.
'This is the best record I've done in a long time because it's so different. I listen to a lot of Selena Gomez- I think her vibe is cool and sexy,' she concluded.
Britney spoke with Scott Mills for the second time this year, and she talked about her performance on the "Apple Music Festival 10", her new album and much more!
"When I was younger, I could do backflips. I was a gymnast. I could do all kinds of things. I put a back walkover in my show. Actually, last night… I freaked out. I put my hands up and there was the new guy there. Usually, I have my signature guy that helps me with it for the past three years… but there was a new guy. It was his first time to touch my back, and I couldn't do it. He seemed really confident and strong so I should've felt more confident but I was scared." she said about her failed backflip during the AMF on September 27.

'My son can do it now – kids are fearless – but it inspires me, because of that I put a back walkover in my show.' she added.

"I'm into the numbers. I'm very aware of what's going on. I want to know where [the music's] mark is." She said about her performance on the charts.
Here's the full interview of Britney with Kiss FM on September 28.
Here's a preview of a new interview in London and Britney wasn't feeling Rylan Clark-Neal's dance moves… Look at her face! lol
Britney's appearance On The Jonathan Ross Show airs on October 1st but here's a preview video and some parts of her interview.
On dating: "I have a friend at home and he randomly sets me up with people on blind dates, it's just awkward. It's tricky. There have been two dates which have been cool but other than that it's too much.

"There was this one guy and he looked like a lizard. I was so scared, I was like 'Holy shit he looks just like a lizard!'. It was very bad, I left immediately. I called my friend, I was so mad, I was very angry. I would like someone who's nice, overall a nice guy is a groundbreaking in this world. A lot of men are about games, it's just a mind game with guys, you know, the calling back, it's too much, it's silly."

She backtracked and added: "Actually, I'm not looking for a man right now, I'm happy with myself. I'm fine with the way I am."

Partying in Vegas: "I am aware of the partying that's going on, a lot of the people are very intoxicated at my shows. I actually got contact high. I haven't smoked weed since I was like 17 years old and all of a sudden towards the end of the show it was so strong I couldn't function, just from the contact of it, I was like, 'Oh my goodness', I had to leave, I had to go. I just said I can't do it. There's parties all around me. I just don't go in there, they are private parties, there's a lot of drugs involved inside. It's right across the hall from me."

Sean Preston doesn't like mama's music: "His father is a DJ and he's actually going to give his dad a run for his money, he's very good. When I recorded my record I would bring it home and a lot of the songs he was like, 'Mum, this isn't really good'. He would tell me straight up. I really do respect his ear because he knows, as the young generation. That's his thing. I don't want them to do any particular thing with their lives, I just want them to be strong men, I just hope I give them wisdom and be a good mother to them."
She also talked abut her conservatorship for the first time and said:
"Okay, so I have this conservatorship. I've been under this conservatorship for three years and I felt like a lot of decisions were made for me, so I wanted [Glory] to be my baby and I've been really strategic about it"
Tune into #TheJRShow tomorrow on @ITV at 10.20pm with @britneyspears @TheRealLukevans #EmilyBlunt and #AlexanderSkarsgard pic.twitter.com/hxU7R7Y1dH

— Jonathan Ross Show (@JRossShow) 30 September 2016
Watch down below a new video of Brit talking about her upcoming performance at the iHeart Radio Music Festival.
Britney's on the cover of the September issue of NME Magazine! You can buy your copy now.
On the secret to her longevity: "I try not to analyse it too much. I love what I do and I think that helps because it speaks for itself when I perform."

On another career path: "Seeing other artists continue to do this kind of thing inspires me too. Because sometimes I'm like, 'What am I doing?' Like, I could be a teacher. But then I see other people doing it too and I'm like, "Well, you know, it's probably all they've known for so long, so it just kind of makes sense."

On her creative input with Glory: "Honestly, this is the first project where I've really been hands-on. I was really specific about who I worked with and I've been learning to say no. I'm a people-pleaser, so that's hard for me – even if I don't like something, I'll do it just to make a person happy. I made sure this album was everything I wanted it to be. I was really selfish with it."

Being nicknamed Godney and The Holy Spearit: "That's just how the fans are – and I don't want to let them down. At the end of the day, we're all human and we all make mistakes. It's really flattering, but I don't know if I can set my bar that high. I'm sure a lot of them have almost felt like they've grown up with me."

On Beyonce's latest album Lemonade: "I'm a little late on that, but it's good, really angry, a really hardcore album. Most of the time it almost feels like a therapy album. I respect that. She's an artist and that's what she needs to touch on at this moment in her life."

On Glory: "The beginning of the project was actually not that great. The songs that were coming in were not very good. So we got a new A&R girl, and we totally turned it around, gave it a profound new direction. I wanted to use my voice more. I did different stuff with my voice – more bluesy and urban stuff, and played around with different things."
As we told you a couple days ago, Brit's on the cover of the latest issue of Flaunt Magazine and we finally have the full photoshoot and interview. Plus, a new magazine cover. SHE LOOKS BEAUTIFUL!!!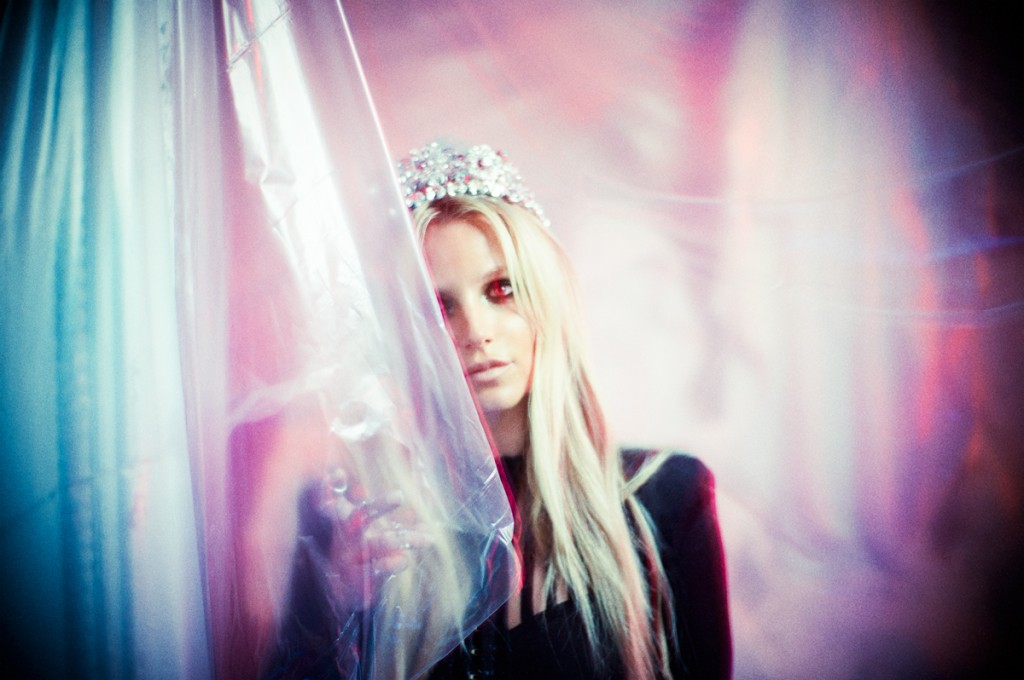 Gallery Links:
–
Photoshoots > 2016 > Ioulex for Flaunt Magazine
–
Magazine Scans > 2016 > September – Flaunt Magazine
"Is it safe?"— Laurence Olivier, Marathon Man (1976)

It is a day without shadows, it is hot, and Los Angeles is ugly.

An elderly woman emerges into the bright light cautiously, hunched beneath a cheap umbrella. In her wake, she drags a handcart filled with groceries and clothing. Oblivious to the discarded chewing gum made soft again by the sun, her orthopedic shoes airlift sugary pink strings from the curb's surface. As she shuffles past the marquee of the Bob Baker Marionette Theater, it's not that difficult to pretend she is just an upside-down puppet reporting for work.

Up the block, inside an air-conditioned trailer, Britney Spears leans her face into a flame. With a Marlboro Menthol dangling from her pursed lips, she moves the cigarette into the fire until the tip of it turns orange. She leans back and exhales a minty, snow-white cloud that drifts over to the miniature kitchen and vanishes somewhere behind the unused microwave.

And her hand is shaking.

"Oh, I'm so weird," she says. "I get nervous in a lot of situations. Parties, clubs. When there are a lot of people around, I'm a weird, anxiety-ridden person."

I make her nervous. I am a stranger. I know next to nothing about her ninth studio album, Glory. To date, every inquiry sent to her management about album details is left unanswered, or rejected outright. It is recommended I reach out to her label's president for a comment. Three questions are sent; a single response arrives via email. It manages to be both polite and meaningless.

"Britney spent time crafting and perfecting the music for this album to create something special for her fans," writes RCA President and Chief Operating Officer Tom Corson. "Glory is truly a special album and reflects where she is in her career and her life right now. The reception has been very strong for the music and we expect that enthusiasm to increase when the album drops."

The struggle to breach the micromanaged insulation of one of the world's best-known pop stars is not to be mistaken for a list of petty gripes, or even complaints. It is entirely understandable why Spears would be cautious, especially now, when cameras hide snugly in every pocket and purse. The paparazzi is everyone. Every question I am not allowed to ask hovers somewhere, invisibly, in the space between us. In this fragment of time, I begin to realize Spears is not playing defense. She's on offense. And it's working.

"I don't understand your question."
Continue reading Britney on Flaunt Magazine: Photoshoot + Full Interview
Finally, Britney's team spoke about what happened with the original video for Make Me directed by David LaChapelle. Well, we wish they didn't… As always, nothing happened. We are just creating stories.
And we still don't understand why we ended up getting the cheapest video ever who looked like a Lizzie McGuire's nonsense video.
Anyway, here's the full interview of her team with Los Angeles Time.
At the 2016 MTV Video Music Awards, there was one pop star with more at stake than any other that night: Britney Spears.

Her last appearance — in 2007 — was a disaster, with the singer famously stumbling through her performance.

Not so this year, when Spears — long since removed from the time when she was a tabloid fixture and late-night punchline, slinked across the stage to her steamy comeback single, "Make Me," the lead track from her recently released album, "Glory."

Spears' much-hyped return to the VMAs last month helped launch her album. "Glory" debuted at No. 3 on this week's Billboard 200 after selling 111,000 equivalent album copies, according to Nielsen Music.

For "Glory," her ninth album, the singer opted for tradition at a time when artists such as Frank Ocean, Rihanna and Beyoncé are finding new ways to redefine conventional releases.

"What we didn't want to do was a secret release in the middle of the night," RCA President Tom Corson said of her label's strategy.

"Pop audiences want to hear something. They want to be informed and educated about [an album] to some degree. Before the advent of streaming, we would have eight- to 12-week setup cycles for major superstar acts."

The lead-up to "Glory" was condensed into a "very reasonably tight window," with a six-week promotional blitz that culminated with the VMAs, an appearance on James Corden's wildly popular "The Late Late Show" segment "Carpool Karaoke" and a mini-concert on "Today" that was beamed from Spears' hit Las Vegas residency, "Piece of Me."

Work began on the album a year and a half ago.

"I wanted to go after a whole different vibe and try new things," the singer said via e-mail ahead of a recent Vegas performance.
Continue reading Larry Rudolph on Make Me Original video: "It's really simple. The video just didn't work"